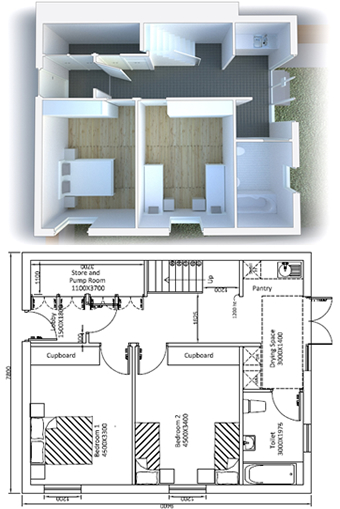 The ground floor has an internal lobby, cloakroom, machine room, two double bedrooms, a family accessible bathroom, drying area, pantry, doors to the rear garden and hallway access to the upstairs.
The ground floor is made of concrete providing thermal mass and contains under floor heating. The front lobby acts as a 'buffer zone' to prevent heat loss. The machine room will contain hot water tank and inverters for PV & wind turbine and these will create heat. The rear doors are triple glazed in a south west position, allowing natural sunlight, creating the optimum area for a clothes drying space.
This area and hallway are open so that warm air from PVT, the drying area and the machine room may circulate upstairs.
There is also a pantry with a sink and laundry area. Bedrooms have south facing windows providing natural light.