NRGSTYLE Multi-Generational
Lifetime Homes
For optimum function and to allow for flexibility in the NRGStyle Multi-Generational Lifetime Home, certain design features have been incorporated and these have:
Minimised load bearing partitions, by using a steel frame structure or steel supports that allow for large expanses
Created a flexible layout that can be easily adapted/modified in the future, by co-ordinating (fixing) all wet points, piping, ducting, sanitary points such as toilets, kitchens & bathrooms
Windows for drying space and the corridor creates a staircase circulation route
The staircase is also fixed and therefore, a permanent feature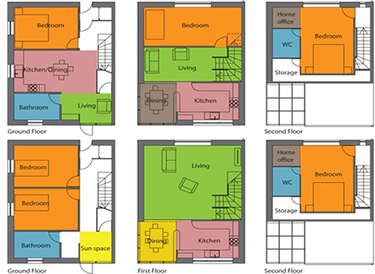 With this flexibility and these design features, NRGStyle have used principles used to design an adaptable life-time home. (16 design criteria for lifetime homes from www.lifetimehomes.org)
Multigenerational living can have positive effects on health and can enhance family life by creating a more harmonious living environment where members of all generations come together and benefit from each other; where the elderly have integration into the social circle of family and community life and are not isolated in their own homes or in nursing homes.
NRGStyle have anticipated the future and the cycles of change encountered in everyone's life.
An NRGStyle multi-generational lifetime home can accommodate one or two families, with options for bedrooms on the ground, first and second floors.
To demonstrate the adaptability and flexibility of NRGStyle lifetime homes, an example is provided:
Take two families:
Family number 1 has 2 adults & 2 children
Family number 2 is the extended family and has 2 elderly parents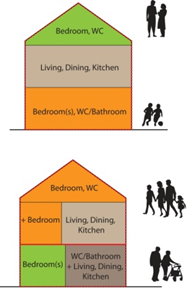 One NRGStyle multi-generational lifetime home can accommodate one family only, with options for bedrooms on the ground, first and second floors
(Appendix 12 Slide 25)
OR
One NRGStyle multi-generational lifetime home can accommodate both families: Family number 1 would be accommodated on the first and second floors and family number 2 would be accommodated on the ground floor, which has built in features, integrated grab rails, on the level living, stair-lift and wheelchair lift access to upper floor
(Appendix 12 Slide 26 & 27)
This is one example of the same house functioning in 2 different ways. There is potential to adapt the layout for a number of circumstances, even when it has been constructed and new owners/tenants have moved into the house.
One of the main principles of NRGStyle homes came from the overall idea of "affordability" inspired by certain ex-local authority, end terraced houses that have existing large garden areas. Once planning permission has been granted and providing they meet lending criteria, it would be more feasible for an existing owner of one of these houses to obtain finance to build their first home, whether it is for themselves to live in to accommodate their required needs, or to sell/rent for investment, as they can use their existing ground, (which they already own), as a deposit for their self-build finance.